Was your property flooded by water from the Addicks or Barker reservoir?
You have the constitutional right under the United States and Texas Constitutions to be compensated by the government if the government "takes" your property. Under this law, called "inverse condemnation," if the government flooded your property for the greater public good, you may be compensated for the property they damaged.
Do you own a home or business that was flooded by reservoir waters?
If so, you qualify to be included in our group of clients who are asserting their constitutional right to be compensated by the government for "taking" their property. We are accepting clients with properties downstream and upstream from the Addicks and Barker reservoirs. We are filing claims for a group of individual clients who will receive personalized attention.
On October 2, 2017, we filed Complaints in the U.S. Court of Federal Claims on behalf of our large group of our clients seeking just compensation for the flooding of their properties by reservoir waters. We are continuing to accept clients.
Our current clients own properties in over 60 neighborhoods and complexes in and around Katy and Houston, including the following (if your neighborhood does not appear here, contact us and we will analyze for you):
Ashford Forest | Aspen Club Condominiums | Barker Court Townhomes | Barwood | Bear Creek Village | Canyon Gate Cinco Ranch | Charlestown Colony | Cinco at Willofork | Cinco Ranch Equestrian Village | Cinco Ranch Greenway Village | Cinco Ranch Meadow Place | Cinco Ranch Southpark | Concord Bridge | Equestrian Park | Fairways at Kelliwood | Fleetwood | Fonn Villages | Gaywood | Georgetown Townhomes | Grand Lakes | Grand Lakes Phase Three | Grand Mission | Greens at Willow Fork | Jamestown Colony | Kelliwood Greens | Kingsland Estates | Lakeside Forest | Marlborough Square | Mayde Creek Farms | Memorial Bend | Memorial Bend Place Condominiums | Memorial Drive Townhomes | Park Harbor Estates | Parklake Village | Parkway Villages | Pine Forest Village | Ria Ranch | River Forest | Shapard Trace | Somerset Place | Stone Gate at Canyon Gate | Tealwood | The Pines Condominiums | Walnut Bend | Woods on Memorial
We work on a contingency fee, so you do not owe us anything unless and until we win your case, at which time we would be paid a portion of your winnings.  You have nothing to lose.
For a free consultation, complete the "Contact Us" form on this website. You may also call us at (888) 695-6993 or come see us at our offices in West Houston.
We are uniquely qualified to handle these cases
The Harvey inverse condemnation cases will likely turn in large part on the science of surface water resources engineering, hydrology and hydraulics. Our firm happens to be on the current forefront of these very hydrographic issues that will be presented by these cases based on work we did on a case last year in which we obtained a verdict of $17,720,000, resulting in a judgment of over $20,000,000. According to the Texas Lawyer, this was among the largest verdicts in Texas last year.
That case involved a fatality during construction of a bridge over Lake Brazos as part of the new Baylor football stadium project. One issue involved the application of marine law. This required us to analyze issues concerning reservoir use, water surface elevations, water flow levels, stream gages, USGS gage data, navigability, and passage of water over and through a dam.
These are precisely the issues we are currently analyzing with respect to the downstream release and upstream accumulation of water from the Addicks and Barker reservoirs. The dam in that case was even operated by the same government entity that operates the Addicks and Barker facilities: the U.S. Army Corps of Engineers.
We hired and worked with a registered civil engineer expert with over 30 years of experience in water resources engineering, modeling and evaluation of surface water resource systems, forensic hydrology and hydraulics, and alternative flood control measures. Our expert prepared a detailed hydrographic analysis for us, reducing it to a report.
We are conducting the same kind of hydrographic analysis in our cases concerning the downstream release and upstream accumulation of water from the Addicks and Barker reservoirs. We are uniquely equipped to do so because we conducted the same analysis as recently as last year in a very significant case. This benefits our clients because we already know how to confront these issues, which greatly increases our chances of success, and also saves costs because there is no need to re-invent the wheel.
The firm's founders, Vuk Vujasinovic and Brian Beckcom, have each been practicing law for approximately 20 years. Vuk and Brian are both Board Certified in Personal Injury Trial Law by the Texas Board of Legal Specialization, and have been so certified for over a decade. In fact, three of the six lawyers at the firm hold this certification. The firm is highly experienced in handling large, high-stakes civil cases for large groups of clients, with an established track record of success.
What must be proven to win this kind of takings or inverse condemnation case?
There is legal authority under the constitutions of the United States and Texas, and under federal and state case law, that you have a potential "takings" claim (also called "inverse condemnation") if the government chooses to flood your property, even if the flooding is temporary.  You do not have to claim or show that the government did anything wrong.  The government sacrificed your property for the greater public good, and you have the constitutional right to be compensated by the government because you took this bullet for the community.
According to the Supreme Court of the United States, "no magic formula enables a court to judge, in every case, whether a given government interference with property is a taking," and "most takings claims turn on situation-specific factual inquiries." Courts have been instructed to consider the following factors in deciding the merits of a taking or inverse condemnation case:
"The degree to which the invasion is intended or is the foreseeable result of authorized government action";
"The character of the land at issue and the owner's 'reasonable investment-backed expectations regarding the land's use"; and
"Severity of the interference."
Courts have also crafted some factors specifically for takings cases involving government flooding of properties:
Property owners must "show that [the government] caused additional flooding beyond what would have occurred under the same conditions had the government not constructed [the reservoirs]"; and
 Challenge what the government must show: The "benefits of the [reservoirs] to each tract of land on the whole offsets the damages suffered to the individual tract under the relevant benefits test of [another case]."
So the bottom line is this: these claims are analyzed by courts on a fact-intensive case-by-case basis. Courts will look at where your neighborhood is located, which street you are on, as well as your specific, one-of-a-kind address. We are going to work with our experts in trying to establish a takings case for each case we accept, no matter where our client's property is located within the inundated areas.
We take the flooding caused by Hurricane Harvey personally, and stand ready to help you preserve your constitutional property rights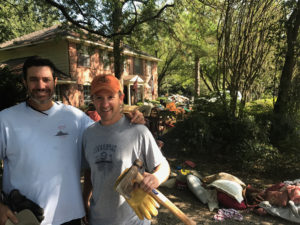 Our law firm is based on the west side of Houston, and most of our lawyers and other employees live in this area. Our firm's founders, Vuk Vujasinovic and Brian Beckcom, live with their families in west Houston. We have had a first-hand look at the devastation caused by the flooding brought on by Hurricane Harvey, and by the government's release of the Addicks and Barker reservoirs. Most of us suffered losses in the flooding. We have been busy helping our families, friends, and fellow citizens gut their homes to prevent mold so they can hopefully re-build. Vuk grew up in Kingwood, an area also hit hard by flooding, and still has close family and friends there.
Our investigation continues to uncover evidence we believe supports our clients' constitutional property claims
One of the main items we must prove in these kinds of cases is that the government knew your property would be among those inundated with water and damaged by the release of water downstream from the Addicks and Barker reservoirs or by the accumulation of water onto private properties upstream.  We are uncovering evidence supporting these claims.
The U.S. Army Corps of Engineers ("USACE") analyzed the Addicks and Barker reservoirs almost 10 years ago.  The purpose of this analysis was to understand and communicate "water inundation risks to stakeholders located in and around the reservoirs."  The government's findings included:
"there are significant residential encroachments within the footprints of the maximum reservoir flood pools";
"substantial residential neighborhoods and commercial developments are located upstream and adjacent to the federal project lands as well as along the channel below the dams and throughout the Buffalo Bayou watersheds";
"major thoroughfares crossing through the reservoirs are subject to inundation"; and
 the decision on when and how much to open or close the dams is a team effort of the" USACE.
A related analysis conducted by the USACE during the same time period focused on "assessment of potential flood damage" and concluded the following areas would be flooded at certain flow levels:  "homes in the vicinity of West Beltway Bridge" and homes "between the bridges over Buffalo Bayou at North Wilcrest Drive … and Chimney Rock Road."
Statements by Richard Long, Manager of the USACE responsible for operations of the Addicks and Barker reservoirs, support our clients' claims:
"This area [upstream properties] is designed to hold that water if necessary. It's unfortunate for you all, but that's how it's designed."
"We know it's putting people, making people hurt upstream, and we know it's making people hurt downstream, but we have to ... operate the reservoirs for the entire population."
"We have opened the gates and we are actually flooding homes downstream now due to our releases."
"Did we know you would have five-foot of water in your home? We knew that if we got this event, there will be homes with water in them, yes."
"This is the first time we have flooded homes located adjacent to and upstream from the property."
"The Corps also can impound water on more land than it owns, so it could flood properties behind or beside the reservoirs."
Some real estate documents also contain evidence supporting our clients' claims that the government intentionally flooded private properties. For example, some plats for some of the Katy area upstream neighborhoods contain the following fine print: "subject to extended controlled inundation under the management of the U.S. Army Corps of Engineers."